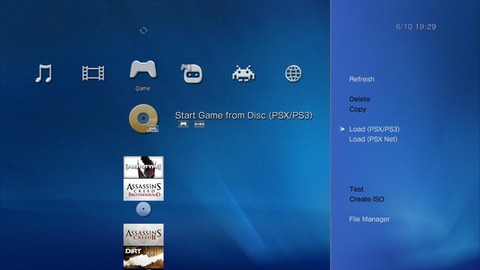 PS3タイトルのバックアップ起動やマルチメディアコンテンツの再生が可能となるPS3向けマルチマネージャMultimanager v.2.09.00 がリリースされています。

最新ファイル
MultiMAN v.2.09.00


導入、使用方法は過去記事を参考にして下さい。
■Multimanagerインストール、バージョンアップ方法
■MultiManagerの使い方 バックアップ方法


更新内容

* Improved performance in XMMB display mode
* Backup from PS3 game discs now works as it should
* You can still launch PSX games from XMMB Game Column
* You can still launch PS3 game backups from DVD-R/RW / BD-R/RE
* You cannot create ISO backups or access non-genuine PS3 game discs (unless Direct Disc Access is enabled)
* You will see an animated icon in XMMB Game column, which you can use to launch your PSX backups.
* To keep the same functionality as before you can turn on "Direct Disc Access" from XMMB Settings column.
>>> Press [TRIANGLE] -> Enable Direct Disc Access
>>> When in Direct Disc Access mode you can rip BD movie discs, launch games, but you can't create backups of PS3 Game Discs.
>>> Do not use "Direct Disc Access Mode" unless you really need it.
Read more: http://www.ps3hax.net/tag/multiman/#ixzz1c8leRPfc